A human rights seminar sought consensus among more than 60 Chinese and European experts in the field in a meeting with the theme of better understanding and deeper cooperation among diverse civilizations.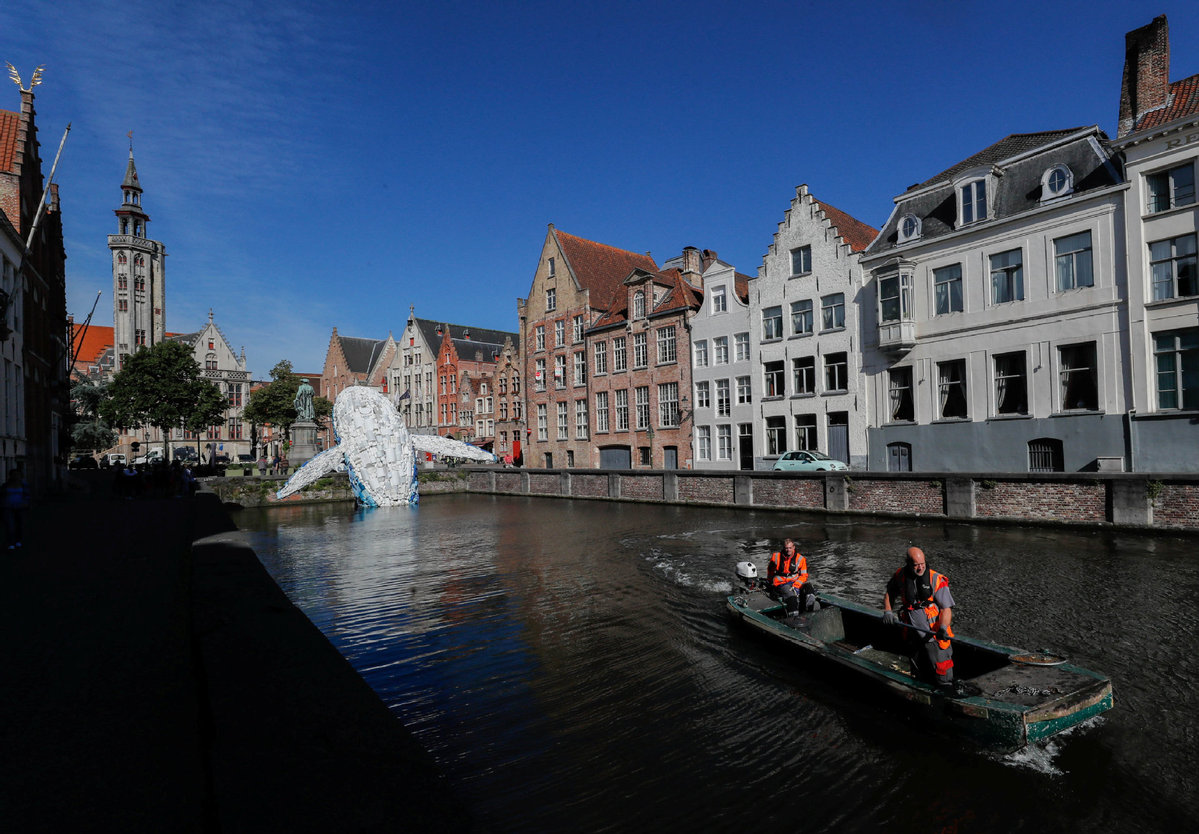 A sculpture named "Skyscraper (the Bruges whale)" by StudioKCA, made from 5 tons of plastic waste pulled out of the Pacific Ocean and depicting a jumping whale, is seen on a canal during the Bruges Triennial 2018, in Bruges, Belgium, June 21, 2018. [Photo/Agencies]
The Europe-China Seminar on Human Rights, established by the China Society for Human Rights Studies in 2015, opened on Thursday at the College of Europe, a postgraduate institute of European studies in Bruges, Belgium.
It serves as a platform to promote dialogue, in-depth exchanges and understanding between China and Europe, organizers said.
Joerg Monar, rector of the College of Europe, said the seminar "fits the mission of the college", which looks for fundamental rights protection inside and outside Europe.
Monar said Bruges, a city known for its bridges, is the ideal place to build bridges in communication between China and Europe.
Xian Weiyi, minister-counselor of Chinese Mission to the European Union, said the goal is to gain a better understanding between China and the EU of each other's theories and practices of human rights.
This year is the 15th anniversary of the signing of the China-EU comprehensive strategic partnership agreement. Xian urged both sides to uphold multilateralism and work in collaboration.
China is committed to protecting and enhancing human rights development through the rule of law, Xian said. "Respecting and safeguarding human rights" is China's constitutional principle, she said.
Xian said social progress cannot be achieved without effort from the international community and called for broader international cooperation on human rights worldwide.
China has set up human rights dialogues and consultation with the EU, the United States, Britain and Germany to promote mutual respect and better understanding of each other, she said.
Pierre Bercis, president of French New Human Rights, a nongovernmental organization, said efforts must be made to reach the common goal, which is to discover solutions in peace and fraternity rather than opposing each other with different ideologies.
"There are democracies in different forms. The key is to reach consensus on human rights protection and convert words into actions," Bercis added.
Lu Guangjin, secretary-general of the China Society for Human Rights Studies, said European and Chinese civilizations have made influential contributions to the progress of human history. He urged the two sides to work together for the progress of human civilization and the development of international human rights.
"Diversity is a basic feature of human society. There is no end to the development of civilization, and there is no end to the realization of human rights," Lu said.