The Chinese Embassy in Zambia on Tuesday awarded some media outlets and journalists of the two countries for their work in promoting the bilateral friendship and mutual understanding between people.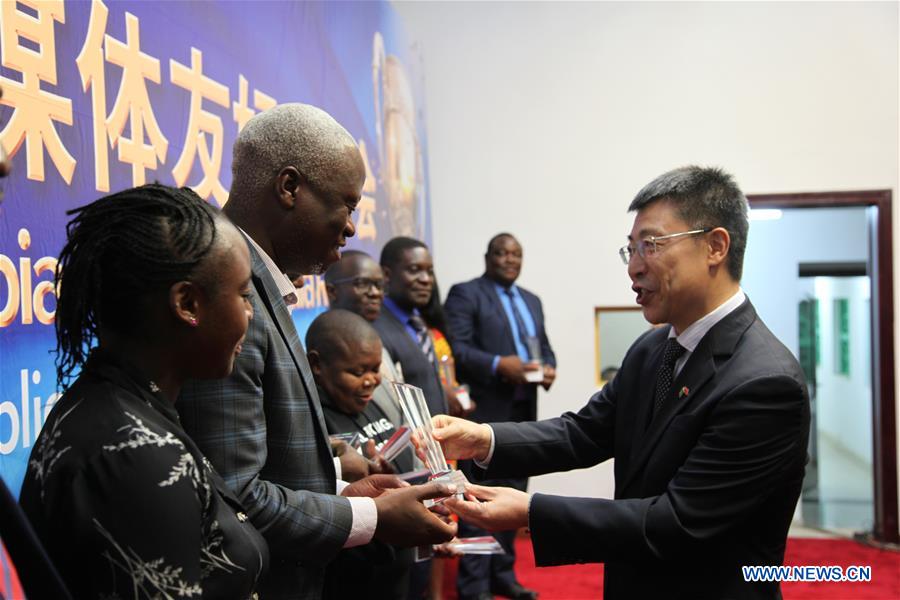 Chinese Ambassador to Zambia Li Jie (R) presents awards during a ceremony in Lusaka, Zambia, Dec. 10, 2019. [Photo/Xinhua]
"Media serves as a bridge for better understanding of our country and our world, and a bond for the people of different countries to know each other better," Chinese Ambassador to Zambia Li Jie said at a reception for the second China-Zambia Friendship Media Awards.
The Chinese envoy said that over the past year, mainstream media outlets of China and Zambia have played their role actively, and worked together to create a favorable environment for the development of bilateral relations.
"The media of the two countries have closely tracked and timely reported on bilateral exchanges and cooperation in political, economic, cultural and other fields," he added.
The development of China-Zambia relations has yielded tangible results, and the two peoples have deepened their understanding of each other, Li noted.
Chanda Kasolo, permanent secretary of Zambian Ministry of Information and Broadcasting Services, urged the media to be the first line of defense in protecting the relationship of the two countries.
Fake news spreading misinformation that harms bilateral ties must be countered through truthful reporting, Kasolo said.
China has been an all-weather friend to Zambia and offered assistance over the years, he said, adding China is a model of national development for Zambia to learn from.
On behalf of the recipients, Nebat Mbewe, managing director of the Zambia Daily Mail, thanked the Chinese embassy for the awards, which he said will go a long way in motivating the journalists.
He said it was expected that the awards would help bring out the best from journalists on whom society depends for verifiable quality news and information.
The first China-Zambia Friendship Media Awards were unveiled in 2017.