With mounting isolationism, protectionism and even military actions affecting global unity, the world faces a pressing task of sticking together through President Xi Jinping's proposal of creating a common community with a shared future for mankind, prominent scholars said.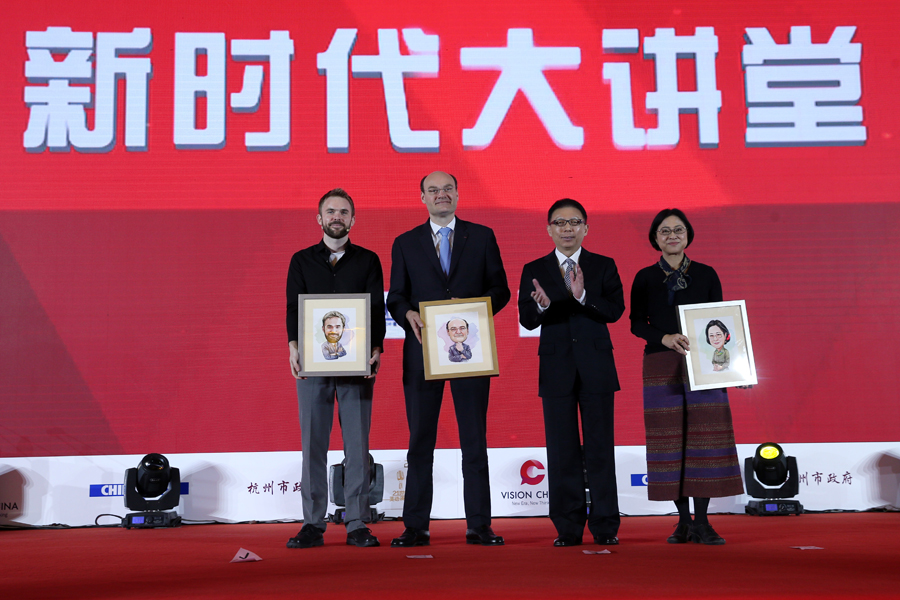 Zhou Shuchun (2nd right), publisher and editor-in-chief of China Daily, David Gosset (2nd left), founder of the Europe-China Forum, Lu Li'an (1st right), vice-director of the College of Foreign Languages and Literature at Fudan University, China Daily journalist Greg Fountain attend the second event of Vision China in Hangzhou, Zhejiang province, April 15, 2018. [Photo/chinadaily.com.cn]
They have shed their light at the second edition of Vision China, a series of public events organized by China Daily, at the Hangzhou International Expo Center on Sunday. Following the event was the awards ceremony of the 2018 Grand Final of the China Daily 21st Century Cup National English Speaking Competition.

"This is the vision," David Gosset, an expert in international relations and founder of the Europe-China Foundation, said in reference to Xi's proposal of creating a common community with a shared future for mankind."
The contrast is clear: There is one country today in the world, led by a man. This country is the biggest economy in the world. This man is shifting from multilateralism to unilateralism, which is not the right path."
Addressing an audience of more than 1,500, both from home and abroad, at the center, which was the venue for the G20 summit chaired by Xi in September 2016, Gosset said: "You all know, I am talking about the United States of America and Donald Trump."
In an interview before his address, Gosset said the rapid deterioration of the global situation in recent weeks, such as trade tensions and airstrikes in Syria by the United States, France and UK, has brought the world into what he called, "Cold War 2.0."
"However, we must remember China and President Xi made intellectual contributions and the world should join this force of uniting us for a better future," Gosset said. "This vision doesn't divide us; it unites us."
Lu Li'an, vice-director of the College of Foreign Languages and Literature at Fudan University and Greg Fountain, a China Daily senior journalist, shared their perspectives on building a community with a shared future for mankind.
In her opening remarks, Ge Huijun, chairwoman of the Zhejiang Provincial Committee of Chinese People's Political Consultative Conference, said the major initiative of "advancing the building of a community with a shared future" put forward by Xi five years ago has become a bright flag to guide the world trend and the direction of human progress amid changing international situations.
Xu Liyi, mayor of Hangzhou, said the concept of "a community with shared future" put forward by Xi provides Chinese wisdom and solutions to tackling common challenges, promoting world peace and development and facilitating common prosperity.
The concept of the community of a shared future for mankind, raised by Xi, also general secretary of the CPC Central Committee, has sparked widespread echoes from people around the world, said Zhou Shuchun, publisher and editor-in-chief of China Daily.
"As China moves into its new era, I believe, the implications of the idea will be further revealed to the world, and inspire people from all over the world to actively participate in the endeavor of building a better world," Zhou said, adding that it also needs the active involvement on the part of youth.
He said that China Daily will continue to sponsor the 21st Century Cup national English speaking competition to better serve as a bridge and platform to raise the cross-culture and cross-language capabilities of China's youth and expand their global perspectives and horizons.
In her speech, Lu, who also is president of Shanghai Taiwan Compatriots Friendship Association, interpreted her understanding of the relationship between individuals and the group under the background of a shared community.
"We can share cultures by being open-minded and difference-friendly. We can share social values and ethical observations by not being self-important and all-imposing. We can share educational devotion and technological development by embracing cooperation rather than competition," Lu said.
This world belongs to all who breathe and live on this planet, and people should not be afraid of the unknown and the different, Lu said.
"And instead, we should honor the lessons of history earned the hard way, learn to be kind, wise, and humble and learn to share to build a better world," she said.
Fountain shared with the audience his experiences at China Daily by hosting the "Good Luck China" and "Decoding The New Era" videos, which provided him with rich opportunities to witness China's breakthroughs in reform and opening-up.
Fountain also explained his understanding of China's development in internet industries, scientific and technological innovations, ecological conservation and the country's contributions in promoting the Belt and Road Initiative and participating in global governance.
"The objective of shaping a community of shared future for mankind is something more than just a slogan. It's a maxim for the whole world, not just China, to live by," Fountain said.