Mozambican businessman Alexandre Santos made the transcontinental trip to China's first import expo, hoping the event will be the prelude to the success of his small firm.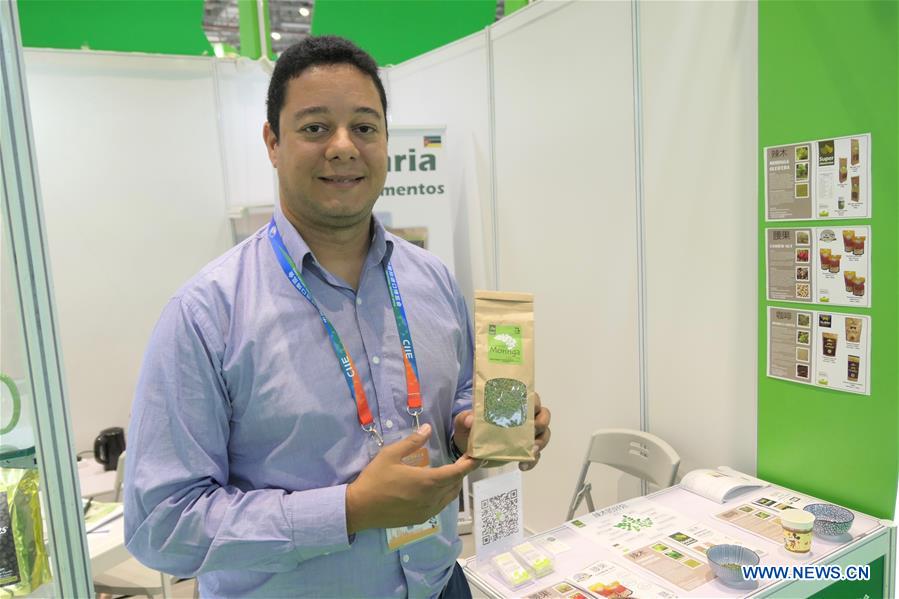 Alexandre Santos, a Mozambican businessman, shows the organic Moringa tea at his booth at the first China International Import Expo in Shanghai, east China, Nov. 8, 2018. [Photo/Xinhua]
He is to showcase organic Moringa tea to China, a country known for tea-drinking traditions. He is feeling very confident because the wholesome leaves can cater to a booming market of health-conscious consumers.
"I believe the Chinese will be interested in our products. Several local dealers have already approached us," he said at a booth surrounded by similar African firms at the ongoing China International Import Expo (CIIE) in Shanghai.
Mozambique has joined dozens of developing economies, including the least developed ones, at the world's first import-themed national-level expo. From African tea to Brazilian football coaching, their goods and services are in a pole position to cash in on the increasingly diversified demands of the world's biggest middle-income population.
In his keynote speech at the opening ceremony of the CIIE, Chinese President Xi Jinping said that China will continue to unleash the potential of the domestic market and expand the scope of imports.
In the next 15 years, China's imported goods and services are estimated to exceed 30 trillion U.S. dollars and 10 trillion U.S. dollars, respectively, Xi said.
"It is our sincere commitment to open the Chinese market to all countries," he said.