Jingdu Cashmere Shop may appear to be an obscure little mom-and-pop business in Qinghe County, in northern China's Hebei Province, but hundreds of tons of raw wool and cashmere from all over the world are sold here every day.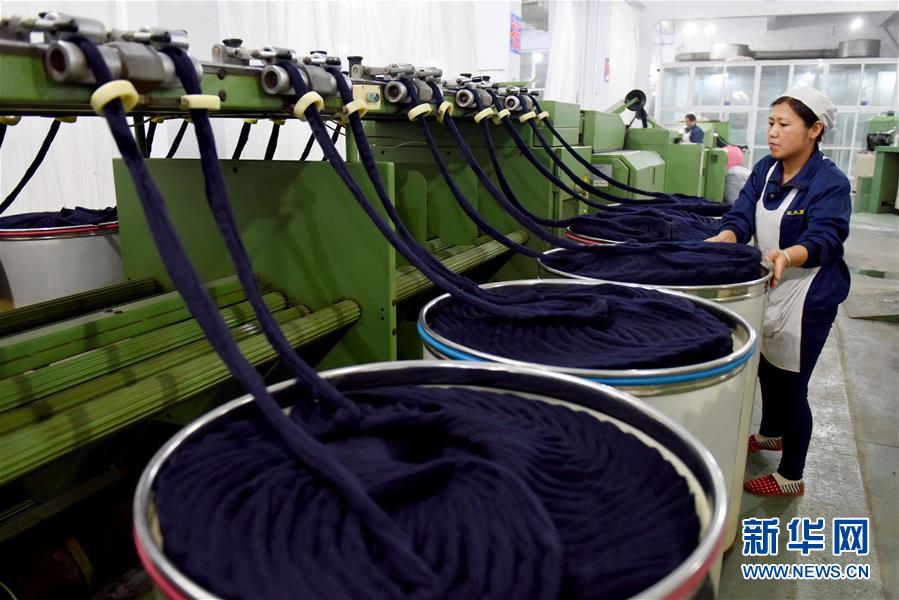 An employee works at a workshop of a cashmere textile company in Qinghe County, northern China's Hebei Province, Dec. 12, 2017. [File photo/Xinhua]
"The shop has been in business for over three years now, and 30 percent of the goods are from overseas, including Russia, Turkey, Pakistan, Uzbekistan and Turkistan," shop owner Zhong Houjun said. "Small as it is, the shop is connected to the rest of the world via the Belt and Road," referring to China's multifaceted international cooperation initiative.
There are 14 wool and cashmere dealers like Zhong's in Qinghe, which trades 40 percent of the world's goat hair and 70 percent of the sheep wool.
Since the launch of the China-Europe rail service, the country's flagship freight rail lines linking Chinese cities with European and Asian countries, Qinghe has seen an increasing amount of wool pouring in from foreign countries, said Li Yubing, head of the county's commerce bureau.
"Three years ago, it takes 20 days to transport the wool we bought from Russia to the Chinese mainland; now it only takes around seven days via the China-Europe freight train, cutting transportation cost by 30 percent," said Liu Xueliang, a wool dealer doing business in Russia. His family has been in the wool trade since his father's time.
In recent months, Liu learned from other traders that most of the raw wool and cashmere transported overseas is sold in Qinghe County, which has almost 40 years of history in this trade.
After years of development, the small county, with no sheep farm, has become an international trade center for raw cashmere and processed cashmere with state-of-the-art sorting technologies and one of the biggest workforce in the trade. The county is also equipped with the full range of industrial supply chain from sorting and manufacturing to sales.
Qinghe's annual sales of cashmere accounts for 40 percent of the world's total, exporting to 10-plus countries and regions including the U.S., Japan, South Korea, the U.K., Switzerland and Italy.
Local businesses are attributing the county's increased openness to the world to the Belt and Road Initiative, which aims to bring countries closer together in culture and trade.