A symposium on "16+1 cooperation" and its coordination with the Belt and Road Initiative opened in Beijing on June 26.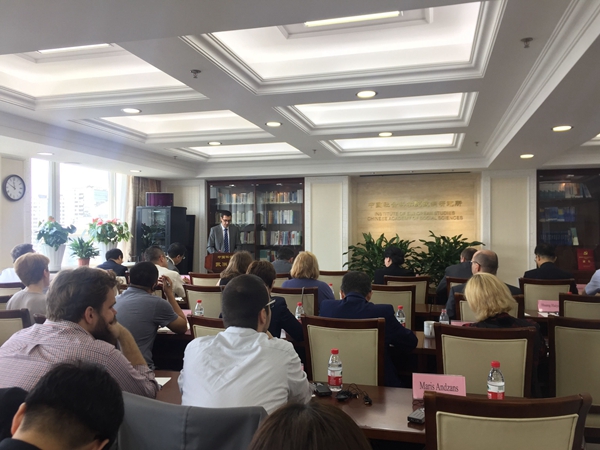 The opening ceremony of the symposium titled "How '16+1 Cooperation' Promotes the Belt and Road Initiative" is held in Beijing on June 26. [Photo by Guo Yiming/SCIO] 
The seven-day event, co-organized by the Institute of European Studies (IES) at the Chinese Academy of Social Sciences (CASS) and 16+1 Think Tanks Network at CASS, has drawn over 60 representatives from think tanks, government agencies and enterprises in China and Central and Eastern European countries (CEEC).
The cooperative mechanism between China and the 16 Central and Eastern European countries, dubbed the "16+1" mechanism, was established in the Polish capital of Warsaw in 2012 and has contributed much to exchanges and cooperation in such fields as infrastructure, energy, trade and tourism amid a sluggish global economy.
Over the past four years, China-CEEC cooperation has been growing incrementally to become a major part of the Belt and Road Initiative, said Huang Ping, secretary-general of the China-CEEC Think Tanks Network and also director-general of IES.
The "16+1" Think Tank Network, founded in late 2015 under the auspices of China's foreign ministry and CASS, China's top national think tank, echoed Chinese Premier Li Keqiang's proposal during the Third China-CEEC Summit in Belgrade in December 2014, of establishing a "16+1" think tank network to encourage more interaction among scholars of the two sides.
At the Silk Road Forum in Warsaw last year, President Xi Jinping also emphasized the unique role that talent development and think tanks can play in driving the Belt and Road Initiative.
It is equally important, as he pointed out, to promote research on courses of action and means to achieve the goals of the initiative, so as to assist in decision-making on strategic planning and alignment, policy coordination and the design of mechanisms.
Huang hoped the symposium could become a platform for scholars, officials and entrepreneurs to engage in open and high-level discussion providing new ideas for further "16+1 cooperation."